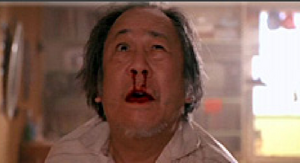 Victor Wong (Walter Chang) was born in San Francisco's Chinatown. As television's first Chinese American reporter (PBS channel 9 from 1968 to 1974), covered the Vietnam War demonstrations of the 1960s and the Patty Hearst story. However, a bout with the paralyzing effects of Belles Palsy, forced him to leave reporting and turn to acting. On television he appeared on the daytime drama "Search for Tomorrow," as well as three PBS American Playhouse movies. His film roles include "The Last Emperor," "The Year of the Dragon," "Big Trouble in Little China," "The Golden Child," "Prince of Darkness," "Dim Sum" and "Shanghai Surprise."
Ad blocker interference detected!
Wikia is a free-to-use site that makes money from advertising. We have a modified experience for viewers using ad blockers

Wikia is not accessible if you've made further modifications. Remove the custom ad blocker rule(s) and the page will load as expected.