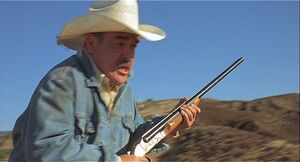 Tony Genaro (Miguel Sanchez) was born in Gallup, New Mexico. As a youngster, he became involved with street gangs, and after lying about his age, joined the army at 14. After leaving the service he applied to the San Diego Theatre Group and alternated with Carl Weathers in "The Tempest" as Callaban. Generro did five plays with Luis Valdez, working again with Valdez years later in the movie "La Bamba" playing the part of Rosa's father. He also appeared with Bette Davis in one of her last films, "Bunny O'Hare."
Ad blocker interference detected!
Wikia is a free-to-use site that makes money from advertising. We have a modified experience for viewers using ad blockers

Wikia is not accessible if you've made further modifications. Remove the custom ad blocker rule(s) and the page will load as expected.