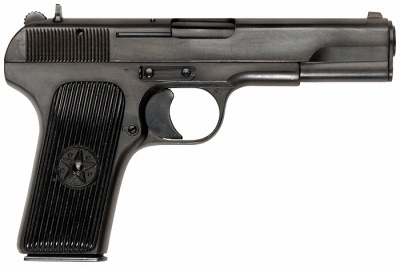 The
TT-33
is a Soviet Russian single-action pistol and the
Zastava M57
is the Yugoslavian copy of the TT. Both pistols are chambered for the 7.62x25mm Tokarev round.
They are seen in two of the four Rambo films, usually used by the Soviets and their allies. In the fourth one it is posessed by a Burmese river pirate.
Description
Edit
The TT-33 (Russian: 7,62-мм самозарядный пистолет Токарева образца 1930 года, 7,62 mm Samozaryadnyj Pistolet Tokareva obraztsa 1930 goda, "7.62x25mm Tokarev self-loading pistol model 1930"; TT-33 standing for Tokarev Type 1933) is a Russian semi-automatic pistol. It was developed in the early 1930s by Fedor Tokarev as a service pistol for the Soviet military to replace the Nagant M1895 revolver that had been in use since Tsarist times, though it never fully replaced the M1895.
The Zastava M57 pistol, was a standard sidearm of the Yugoslavian army. Adopted in 1957, it was a licensed produced copy of the Soviet Tokarev TT pistol, although M57 had longer grip that hosted longer magazine (9 rounds versus 8 rounds in the TT). These pistols usually only cost 150 to 250 USD. In around 1970, Crvena Zastava began production of the similar pistol, chambered for 9x19 Luger ammunition. This model is known as M70A. Zastava currently manufactures new production model 57s,70As and 88s. These models are updated with more modern safety features and sell at a retail of from 220-300 USD.
The Zastava M57 is a short recoil operated, locked breech pistol that uses Browning-type action with swinging link. trigger is of single action type, but pistol has no manual safeties except for a half-cock notch on the hammer. Newer M57s that are made in Serbia but imported into the United States have to have a manual thumb safety by law. These pistols generally are surplus and cost about two hundred dollars each. The nine-round magazine is single stack and the sights are fixed.
M57 basic model
M57A is an upgrade of basic model M57. It has an external safety
M70A 9mm version M70AA is an upgrade of basic model M70A. It has external safety.
M88 shorter version of M70A
M88A features an external safety on the slide, polymer handgrips and the bottom of easily detachable magazine. As of 2011, M88A are imported into the U.S. by K-VAR/FIME Group
As of 2012 M57A, M70AA and M88A are imported into the U.S. by Century International Arms. 
Ad blocker interference detected!
Wikia is a free-to-use site that makes money from advertising. We have a modified experience for viewers using ad blockers

Wikia is not accessible if you've made further modifications. Remove the custom ad blocker rule(s) and the page will load as expected.