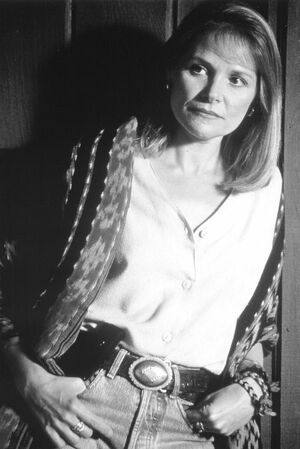 After "Tremors 2," Shaver can next be seen in the upcoming feature films "The Craft" and "Open Season," in which she stars alongside writer/director Robert Wahl. In addition, she recently completed production on "The Amateurs," directed by Masato Harada. Among Shaver's previous film credits are "The Osterman Weekend," "The Color of Money," "The Believers," "Zebrahead" and "That Night."
In 1995, Shaver starred in an episode of Showtime's "Rebel Highway" and has starred on such popular television shows as "WIOU." She has also guest-starred on episodes of "Hill Street Blues" and "Amazing Stories."
| | |
| --- | --- |
| | "Damned jeep trail gets worse every year" ―Earl Bassett[src] |
Ad blocker interference detected!
Wikia is a free-to-use site that makes money from advertising. We have a modified experience for viewers using ad blockers

Wikia is not accessible if you've made further modifications. Remove the custom ad blocker rule(s) and the page will load as expected.